Welcome to the Tockenham Village Fair for 2017

Tockenham Summer Fair
Saturday, 15th July 2017
from 2:00 pm

The picturesque village of Tockenham is holding its sparkling summer fair on Saturday 15th July 2017 from 2:00 pm. Come join in on the fun. Our fair has been the highlight of the summer for generations, with all the appeal of traditional village fetes through the ages. It's an afternoon not to be missed.

There will be plenty of fun and events for the entire family to enjoy. Everyone's favourite attractions will be there, including: stalls & loads of games for the kids and adults; a spectacular raffle with great prizes; a fabulous silent auction; and great food, delicious teas, and sumptuous homemade cakes.

Please come and join us at our Village Fair!

This will be our best one EVER!!!!

For more about this year's fair - please see our This Years Fair page!


---

News Flashes for the people of Tockenham!

The fair will be here before we know it and the Committee would like to thank everyone who has already been involved, and those of you who have offered help on the day. As ever we are still looking for some more help!


---
Your Village Needs YOU!
---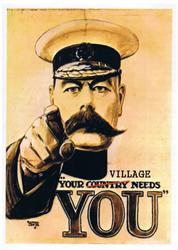 ---
WE NEED YOUR HELP!

We need people to man stalls, serve teas, wash up, help in the beer tent, marshal the parking, man the gates, offer advice,
all sorts of help - really!

We also need donations.

We need bottles, books, plants, cakes,
bric a brac, tombola prizes, silent auction donations, 'posh nosh' for the raffle happer.

If you can help in any way, please contact Rosie Carpenter on 07880 700 248 or 01793 879 449 or email rosiecarpenter@talktalk.net.

We really do need YOU!!!